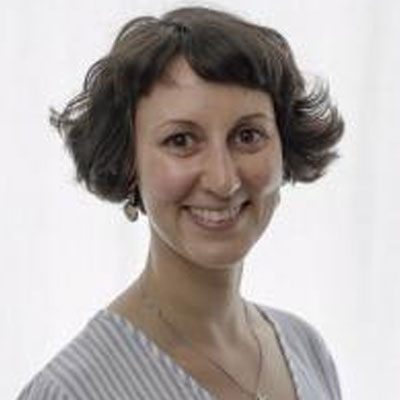 Judit is a qualified Feldenkrais teacher (2016, Sussex, UK) and offers individual Functional Integration lessons at Ola. She has also a diploma in Remedial Massage (2008 Sydney, Australia) and has been practicing as a full time Remedial and Sports massage therapist since 2010. She finds learning about the body, mind and movement a fascinating, exciting and a continuous journey.
She joined the well-known company City Sports Massage and practiced as a senior massage therapist in one of their busy clinics in Central London.  Attending regular in house workshops and being constantly interested in refining her skills she now works with confidence when treating people with various musculo-skeletal injuries and dysfunctions.
Judit places particular importance to treating people with sensitivity, care and attention. Keeping in mind that the outside world and the experiences of life have shaped our bodies and who we are.
Movement, awareness, soft tissue treatment and breathing techniques are the main elements of a usual session.
She focuses on pain relief, ease of tension, improving movement and function to create a feeling of well being. She highly encourages self care and suggests ways of avoiding further injuries.
In a Functional Integration lessson the sessions focus on a gentle exploration of movmement – habitual ways, new options and functionality with awareness.
The lessons can help to recover after an injurys affecting the musculoskeletal and nervous system and improve the way we ue our body.
FI lessons are hugely benficial for infants and children with neurological and developmental challenges.
Functional Integration lessons last between 60 – 75 min for adults and around 45 min for a child.
Prices for Feldenkrais:
Adult – £55 or £50 if block of 4 or more lessons are booked (max. week apart between lessons & payed on the first session)
Child –  £40 or £35 if block of 4 or more lessons are booked.
In Massage the pressure of the touch and areas of focus varies depending on the needs of each individual. Judit's work is slow with attention to the detail and the whole.
Prices for Massage:
45 min – £40
60 min – £55
75 min – £65
90 min – £75
Reduced rates are available if you book and pay for 4 sessions in advance (4 x 60min £200, 4 x 75min £240 and 4x 90min £280).
Clients often report feeling lighter, more mobile and relaxed after the treatments and long lasting improvements after a series of sessions.
She also teaches a weekly Awareness Through Movement group class at the Forge Yoga Centre in Totnes and Sation Yard Studios in Ashburton. This awareness and movement practice deepened her understanding of the self, body and movement and their interrelatedness. A sense of her own body in movement from within informs her practice to help people find comfort and ease in their bodies.
She also teaches a weekly Awareness Through Movement group class at the Angel Hall Yoga Studio in Totnes. This awareness and movement practice deepened her understanding of the self, body and movement and their interrelatedness. A sense of her own body in movement from within informs her practice to help people find comfort and ease in their bodies.
I booked a 1 hour remedial massage with Judit in April 2015. It was her first day practising from Ola Chiropractic. Her welcome was easy and she quickly and efficiently interviewed me to establish my health and what sorts of discomfort I was experiencing. I felt that she gave just the right amount of time to this before deciding and explaining what she proposed to do. She inspired confidence. The massage itself very effectively to explored, identified and then addressed the areas of discomfort, especially in upper back, shoulders and arms. Pressure was gradually increased and Judit took care always to check whether the pressure she was applying was bearable. At all times she maintained contact and progressed smoothly from one area to the next so that the whole session was "seemless". Judit also gave useful advice about posture and what to do after the massage. Altogether a very therapeutic experience carried out with the utmost professionalism in a friendly and easy manner.
I've been seeing Judit on and off since February this year, but I'd only see her for one session, and then leave a gap for a few months and see her again. I've got very sore shoulder, neck and back muscles so I returned to see her in November and she recommended that I see her for a few more sessions consecutively so that she could really do some work in the muscles, and see how my body responds. I decided I would do this as I was in quite a lot of pain. Thankfully I did this as after 3 sessions my muscles are noticeably softer and Judit was 'chuffed' to see my body responding well to treatment! I've had many many massages over the years and I have to say that Judit is the first person who has actually been able to treat my problem! Thank you so much Judit!
I visited London Bridge City Sports Massage in May with a bad back due to carrying heavy bags and poor posture. The treatment I received from Judith was second to none. Her deep massage eased the aches and pains and got right to the root causes of the tensions in my muscles and soft tissues. Judith's advice was excellent; She really knew her stuff, and her expertise made me feel a hundred times better. I recommend this treatment to anyone; It is well worth the money, nice to treat yourself, great for unwinding and relaxing for an hour, and relieves physical problems at the same time.
I found my massage with Judit to be beneficial on many levels. Her skill and knowledge made me feel in very safe and caring hands and her direction to use the breath, so as to deepen the affect, was wonderful.
I loved the massage you gave me Judit, it felt very deep and nurturing. It gave me a calm sense of intergration and of being well held and heard. You work with a strong confidence and having done massage for 10 years myself, I can tell that you also take care of yourself as you work, so that the space you hold is very safe. Thankyou!
I have been visiting Judit every month for 5 years and I can honestly say that the sports treatment I have with her is both muscle recovery and mental recovery. My body always feels lighter and stronger after my massage. She focuses on the most stressed areas and responds intuitively to every need, making sure the pressure is comfortable and ensuring my breathing is in tune with the therapy. In that hour I feel restored, present in my body and aware of my breathing. I highly recommend Judit's therapy to anyone who wants to speed up tension release, increase mental focus and tissue healing. She also had many great tips for avoiding muscle soreness through appropriate stretches before exercise. The benefits of her sports massage are more than just physical.
Just wanted to say thank you so much for helping me in my knee rehab. Things are getting much better, and I'm back to 90 degree flexion and can actively straighten my knee fully for the first time after 2yrs.
Being six months pregnant, I was slightly apprehensive before my massage, particularly as I find lying on my back uncomfortable, however Judit, my therapist at Snowfields, made sure I was very comfy right from the start with pregnancy pillows and a toasty, warm room. Judit listened to my needs and addressed my aches and pains carefully. Not only did I feel lively and supple afterwards, I felt pampered too. I've never known an hour to fly so quickly. It's just what a pregnant mum-to-be could ask for!
Just come back from my first massage with Judit and I am extremely impressed. I was referred by my GP following an upper back muscular injury and was told the best thing was a sports massage. Judit understood immediately what was required from my description and set to work - the massage itself was extremely relaxing but due to the tender muscles it was understandably uncomfortable at times but not to the point of yelling!! Obviously I am hopeful that the massage has done the trick, but should further treatment be required I would have no hesitation in using Judit's services again. Thank you. :O)
A wonderfully relaxing and powerfully therapeutic massage. Beforehand I was unable to turn my head to one side but after my treatment with Judit, I had full mobility returned: I felt great! Judit is a caring, immensely capable and technically talented therapist. I would highly recommend a session.
The massage was a surprise , a really good surprise. At the same time Judit has a soft and gentle touch she is present, what called me to my own presence as well. I had light back pain when I arrived at the studio and I left with no pain, energized and with a feeling that I was looked after.
The F.I sessions have worked as a kind of slow infiltration, it is increasingly affecting how I occupy my body in movement. As though my body and the sensation of my body are coming into synch. It's become about noticing things rather than correcting things - thats how the sessions are. They are exploratory and suggestive which gives a lot of space, to bring what I know and understand of movement, body and sensation The hands on approach, different to the Feldenkrais group workshops, gives an extra attention and information to something through touch - the touch is often so light and tiny but very direct, specific, knowing. Its a touch that seems to bypass the muscles, tendons and meat of the body and touch the skeleton - For me this is one of the most exciting affecting aspect of the sessions, getting to the skeleton. Mostly makes me feel very light, simple and easy and sometimes takes a little while to ground again. The very small movements and touches can have a huge impact on the body. Not in huge explosive excitable 'wows' but in deeply quiet confirming 'wows'. Over the weeks my body increasingly integrated and recognised the information it was receiving from the session - like it was building up a memory bank of sensation of moving. It assumes nothing and corrects nothing, but a lot happens.
Judit's approach is gentle, yet strong and she is exceptionally skilled in building a trusting relationship. I have felt safe with her and nourished by her treatments. I warmly recommend her to prospective clients.