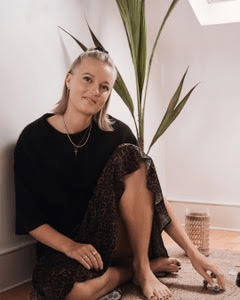 I am a free spirit who loves travelling, as well as anything that forces me into shifting my perspective. I take well being seriously, and am continuously learning new ways of healing and living holistically. I eat well. I rarely feel balanced unless I practice yoga daily and meditate in the mornings. I love to feel my bare feet on the ground. I grow by connecting to the spirit of nature and going inwards. The moon inspires me, and reminds me how important cycles are. It shows me that even in darkness, the light is always on the way. I love community and having people around me, learning about all the unique gifts that we all bring.
Being committed to spiritual growth from a young age, I have immersed myself in many traditions, rituals and eastern, indigenous and shamanic practices to expand my consciousness. From this place of constant growth and change, I aim to implement my learnings and training in the service of others. This is what lies at the core of my work — discovering the richness of life and then paying it forward, hence honoring my feminine essence and encouraging other women to do the same.
I'm passionate about the power of the feminine Supporting women in their growth has thus become my calling. My joy comes in empowering my clients to step into the path of love, consciousness and wisdom while I offer my listening ear and intuition. Earlier I have worked in the therapeutic field for over nine years, successfully supporting a variety of people, ranging from families, schools, couples and individuals. I have worked in many capacities, including improving the wellbeing of families in need in the London area, as well as bringing wellbeing into the education system there. Also supporting birth as a Doula, I took real pleasure in being part of such a profound experience in a woman's journey. Through being present during the birth of new life, I also witnessed the rebirth of the mother herself, and was deeply inspired to remind all women of their inherent power and beauty. Now I work exclusively with women in countries such as the UK, USA, Canada, Greece, France, the Netherlands and more.
A woman's power goes well beyond the majesty of child giving. Through Transformational Life Coaching, I hope to bring your capacity for creation into every facet of your life, to guide you deeper into your divine connection to yourself, and to move you closer to discovering your true calling. From there, I aim to guide you in finding the resources and tools you need, and to effectively swap out the unwanted things in your life with what you've always wished for.
I believe women need initiation into their womanhood So many women want more from life. We search and search for meaningful connections and experiences, but find ourselves in lives that we did not ask for. So many women live in grown bodies but feel stuck in their spiritual and emotional development, and feel a yearning to be 'initiated' into womanhood. Such rituals have been lost in the modern world, and I am passionate about overseeing this kind of process with my clients in a way that honors their personal and individual needs. Women need to discover the richness of who they are and learn how to incorporate this richness into their everyday life. They also need support in this endeavor. I deeply enjoy being part of the journey toward birthing and actualizing feminine essence, and I take pleasure in being the portal toward women's initiation to reclaim their power. It is my hope that I can be a companion and guide on your journey, mirroring and encouraging you to move beyond limitation and find confidence in your capacities as a creative force.
If you are ready to step into your creative fire and forge it into your highest vision, I would be delighted and honored to step in with you. I work in a holistic and person-centered way so you can identify and explore your possibilities, growth edge and potential at your own pace and ease. It is my hope that you find your way home to yourself and step into the life you've always wanted.​
There is a lovely relaxing feel at Ola and Claire and Elisha have done a fantastic job in getting my neck sorted. My treatment isn't even complete and everything is already feeling much less achey and more free. I feel more balanced generally and can really see the value so will definitely be checking in every so often for a little top up!
Ola is by far the best Chiropractic care I have experienced. Claire, Zehra and Elisha are exceptional practitioners and beautiful people and they work their magic every time. The clinic is beautifully set up and and a calm place to wait for your appointment. I recommend them highly.
Dr Claire is in an exceptional chiropractor who works in a truly unique way. Everything about her presence is deeply loving and caring and she is highly intuitive and responsive. Whatever the issue, Claire will meet with with so much care, honesty and expertise - I can't recommend her highly enough.
Lina has magic hands and is so intuitive. If there was an option to give more than 5 stars I would. Best massage I have ever had! I highly recommend OLA Chiropractic - great place, great team and you always get a warm and friendly welcome from the practice manager Jasmine too!
We have been having weekly treatments for almost 3 years as a family. Claire is exceptional as a practitioner. Ola is a beautiful calm environment in which to focus on your health and let the team support your body.
I've had chiropractic care from Claire a few times and she is wonderful. Intuitive, highly knowledgeable, caring, skillful--everything I would hope for in a chiropractor!