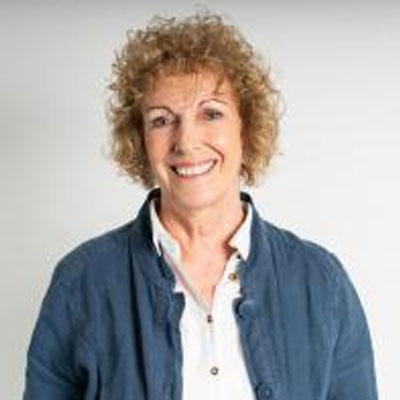 Veronica trained as a State Registered Nurse in Bristol. She became attracted to a more natural and gentle holistic approach to health and wellbeing.
She qualified as a Reflexologist in 1994 and went on to study healing and Reiki. In 1998 she became a Register Reiki Master/Teacher and for 18 years has been running regular First, Second and Third Degree (Master/ Practitioner) courses at Totnes Natural Health Centre. Initiation into this simple and natural system can enhance the individual's healing journey.
Veronica is a member of the International Guild of Professional Practitioner Register of approved Master/Teachers, The UK Reiki Federation, The Complementary Therapist Association and The Association of Reflexologists.
With 24 years' experience as a practitioner she has built up a regular and loyal client base.
Ola offers a peaceful and relaxing setting to ensure the needs of her clients are met.
REFLEXOLOGY
Reflexology is a gentle, relaxing, therapeutic, precise foot massage. Points on the feet (and hands) correspond to every part of the body. These are stimulated by pressure, sending an unconscious impulse to the body's glands and organs. It can improve the blood flow and natural energies around the body. It is a simple, effective natural way to overcome and support many illnesses and ailments and thus improving health.
Veronica incorporates advanced techniques using precision, cranio- sacral reflex and meridian work within the Reflexology treatment and the treatments are tailor made to suit her client's needs.
REIKI
Reiki is a Japanese energy transference technique for stress reduction and relaxation that also promotes healing and wellbeing. Reiki flows through the hands of the practitioner to areas of need, re-balancing, energising and soothing pain and discomfort and supporting the body's natural healing ability to heal itself. The whole person is treated and the aim is to bring harmony to the mind, body and spirit. Reiki is gentle, natural and safe and available to everyone.
Reiki courses help to promote self-development and empower the person to have an understanding of this effective system.
HOPI EAR CANDLNG    
Hopi ear candles are a soothing treatment to assist many head and ear problems.
For more information please visit www.veronicafriend.co.uk Email info@veronicafriend.co.uk Telephone 07779516731
I have been having reflexology with Veronica for about three years now. She is fantastic at what she does! Such a kind, gentle lady. I ALWAYS look forward to seeing her, it is such a treat! She can tell me so much about my health from my feet, it always amazes me!! I have back problems and she always gives great advice. She is also a great listener and I always feel so much better after my treatment. I would recommend her to anyone, she is wonderful and I feel so lucky to have had her recommended to me
I feel blessed to have you Veronica as my Reflexologist. You have helped me through so many changes in my life over the years as an amazing Reflexologist and supportive friend
As a long standing Reflexology client, I love my treatments and they have made not just a profound difference to my health but also to my general wellbeing
I just wanted to thank you so sincerely for your amazing reiki sessions. They have led me to accept that there is more to life than what the eye can see. Each session is different but they all leave me feeling at peace and I am sure this is partly due to your calming presence. I feel wrapped up in love and complete within myself
I feel so fortunate to have found you Veronica. It feels to me that you are truly in your element when you are offering Reiki treatments and guidance. It is as if your own practice has allowed the Reiki light to embody you
I've just completed the Second Degree Reiki this weekend. The First Degree was amazing but this weekend surpassed even that. Veronica is a wonderful person and a talented teacher. She is skilful with managing the different characters on the course, thoughtful of everyone's needs. I can't recommend her courses enough. However, if you are not looking to be taught, but want an incredible Reiki session, you will not be disappointed. Veronica has a calming way about her and her gentle approach will leave you feeling balance and happy. Thank you Veronica
It has been inspirational and a privilege to attend and experience all three Reiki Degrees these past twelve months, with a very special lady, Veronica, together with meeting and sharing Reiki with new friends in beautiful Totnes. This feels like the start of a very special and illuminated journey, Thank you Veronica!
Thank you for a truly inspirational workshop. The pleasure and information were immense. The atmosphere you created with flowers and candles and special separate Attunement area was perfect. I also appreciate your practical approach, attention to detail, your wisdom and knowledge and all the support you gave me. The biscuits and refreshments were yummy too!
Veronica you are a very special woman with a very special gift. You make our souls sing and our hearts beat. Through you and Reiki so many people are finding out who they are, why we are here and how they can help others. Thank you for sharing your special gift. You bring light and colour to everyone and you have truly changed my life and I shall be forever grateful.
I have just completed my first degree reiki training and I am so happy I chose Veronica for my training. Her courses are friendly, easy to follow and makes you feel like a brand new person. Not only is she a lovely soul, she's kind, patient and very supportive. I can't wait to come back and train for my second degree
What an amazing weekend - it was all I wanted it to be and much much more. Thank you so so much Veronica - your guidance and inspiration has given me a truly magical start to my Reiki Journey. I cannot wait for my Second Degree! Reiki has become part of my life already. I have never experienced such deep peace and calm. Thank you too to the all the Ladies in our group who gave the whole weekend such an amazing atmosphere